Concluding RightsCon 2021
Mnemonic's participation at this year's 10th edition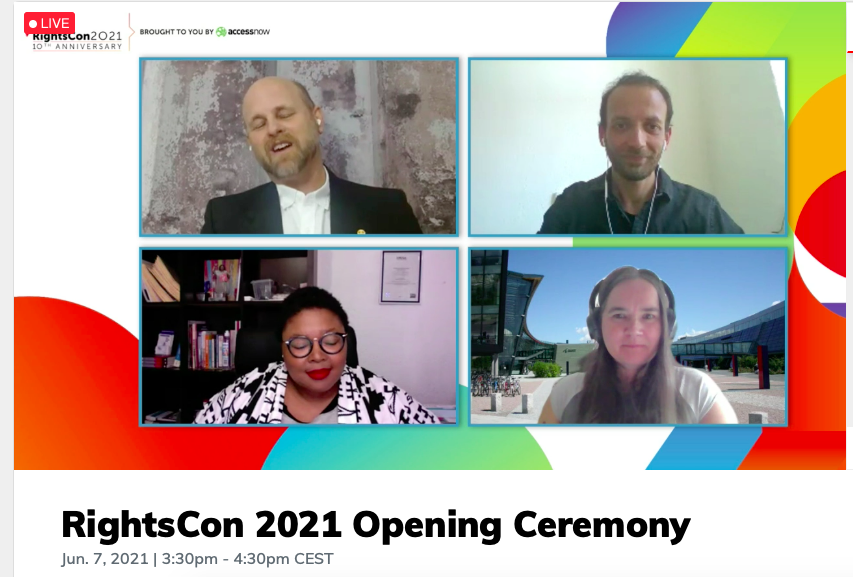 Last Friday the tenth edition of RightsCon concluded after five days of tens of fruitful panels and discussions. This year was particularly remarkable for Mnemonic as our staff members have participated as speakers, as participants, and as part of the program committee. In addition to having Mnemonic's Executive Director giving remarks at the opening speech of this year's conference alongside key speakers from the United Nations, Telenor Group, and Access Now.
2021 is the second year for RightsCon to be held online due to the pandemic, while this might have been a challenge yet as Brett Solomon, Access Now's Executive Director, said in his opening speech that everyone is one click away. Over the years, the hallway experience has been fantastic to everyone coming to RightsCon but as the world is moving to adapt to lockdowns and restricted travels, holding the conference online had it's special taste and impact.
This year Mnemonic's Executive Director, Hadi Al Khatib has made it clear in his opening remarks and also in the panels he spoke at, that the only way for change to happen is through solidarity driven approach. In 2014 when Al Khatib and two friends founded the Syrian Archive, it only succeeded when forces joined to memorialise the history of a conflict that is considered to be the most digitally documented one in history. Additionally, working with local journalists in every country Mnemonic had archived data from and continuing to accredit the work of those journalists, that have made it possible for the world to see what was happening on the ground, is empirical to a sustained work in documenting abuses.
Dia Kayyali, Associate Director of Advocacy at Mnemonic, has taken part in at least four panels at RightsCon this year. Their interventions shed the light strongly on how harmful content moderation policies are to the data being shared on social media platforms that include violations to human rights. In a discussion with Marwa Fatafta, Nadim Nashif, and Eliza Campbell, there was an agreement between all panelists, Kayyali included, that there is over moderation for Arabic content, and that companies are setting policies without reaching out to defenders and activists from the region who can only be of great support to those companies who don't understand the geographical context of every part of the world.
Organisers of RightsCon said that the numbers of participants between 2011 and 2021 have risen from 400 to 8500. This number resembles the number of people, whether rights advocates, or journalists, and/or technology workers, who are all interested in understanding more the connection between human rights and technology and how this connection can be used to seek justice and hold perpetrators accountable to their crimes.
Finally, Al Khatib was asked during one of the panels on how does Mnemonic continue working when it is known that justice is long away? "Documentation must go on, making use of all and any advocacy opportunity is a must, making sure that evidence is preserved professionally is important for the future."
From now until RightsCon 2022, Mnemonic will continue its work in enhancing tools to archive content and continue to support groups from all around the world in their archiving journey. We look forward to being part of an even larger audience next year.
Thank you, RightsCon, we will see you next year.